About Ace Annison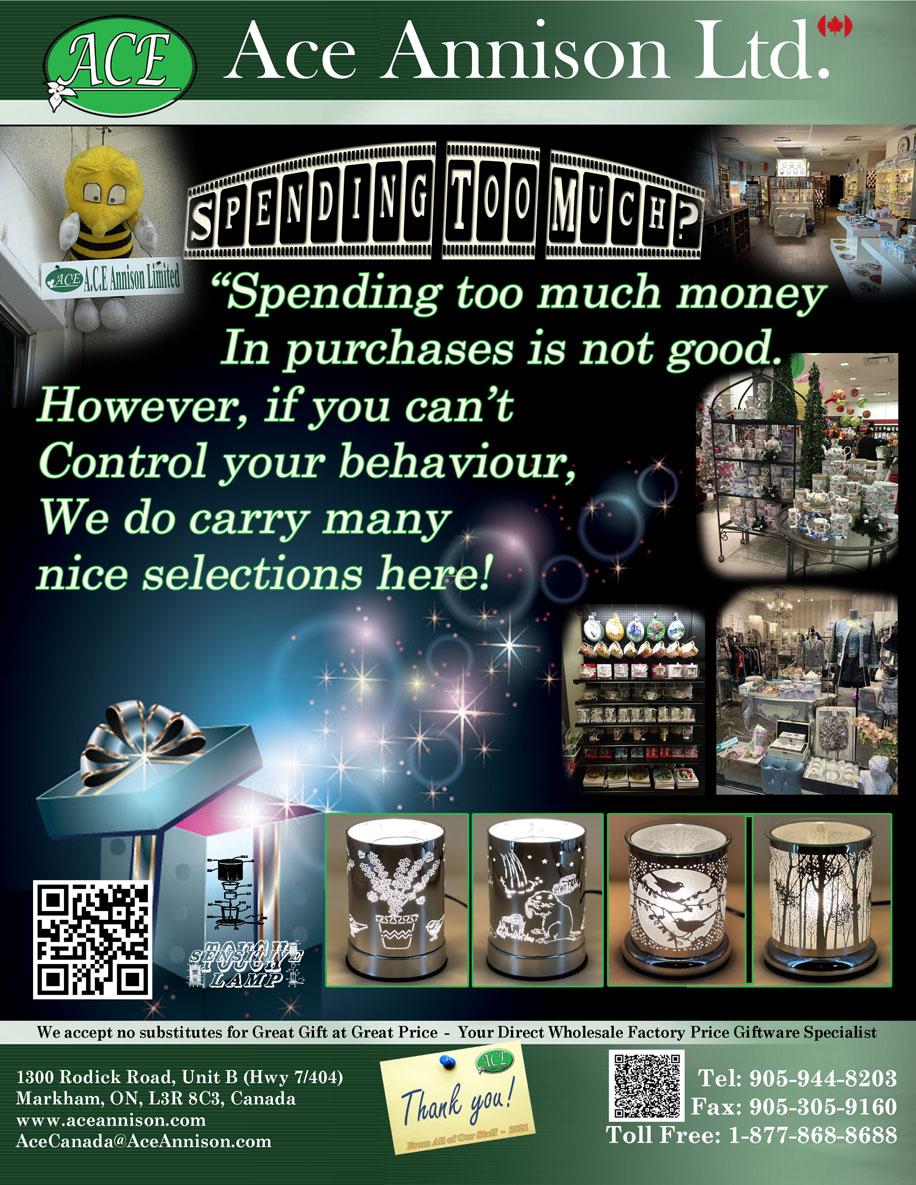 Company at a Glance
Ace Annison Ltd. is a Toronto/Ontario based wholesale giftware company who has built a reputable wholesale tableware/giftware business in Canada for the past 25+ years. ACE was started back in 1994, in a local flea market, to source and distribute unique eye-catching giftware. The gifts that this company sells are branded with its private logo, bottom stamp, and nice packaging. Just like many other successful companies, its business is aiming to create a customer experience that is powerful enough to make their customers recommend Ace to other clients and friends. Ace has worked very hard to bring great colourful gifts and great prices to restaurants, premium gift stores, museums, boutiques, and specialty shops. The company's focus is to identify, with passion, their clients' wishes and work to achieve these in partnership with them.
The products displayed during Ace's Trade Shows and showroom have a very high turnover rate. Ace is always proud to tell their customers that when they entered the trade shows and showroom, it is not a museum. The products they carry do fly out of the shelves. Most of their existing customers place their orders directly in the trade show floor. The products are so attractive that they don't think they need to go back and think about placing the order in the future. This is also influenced by their past strict quality control and after-sell services. All of Ace's products have gone through extensive market research across Canada before it is willing to send to the production line. The company do not call itself "specialist" if it doesn't focus on what it is doing the best in the industry.
The company recognizes that people have many choices in giftware and tableware. They appreciate the chance to be one of your suppliers. They look forward to receiving your comments and to deliver the highest quality in products and services. Thank you for considering Ace as one of your suppliers in the future.
Mission Statement
The company is dedicated to a friendly sales environment in which its customers can enjoy all the benefits of a great gift & great price. Unlike many other wholesale giftware companies that are concerned with turning profit, the primary object at Ace Annison is to exceed all of its customers' expectations by delivering exceptional products and caring services at a great price. As the chief executive at American Express puts it, "Promise only what you can deliver and deliver more than what you promised!" At Ace, we believe that customers' satisfaction will determine both the success and longevity of our company. Our cliché – "We accept no substitutes for Great Stuff & Great Price."
If you would like to learn more about what makes the Ace Annison gift experience so unique, please take a look at our Keys to Success.